14 Best Cardio Equipment on a Budget
As you embark on exercising at home, you should think a little bit about what your goals are. Exercise is good for the body and the mind. Consider goals such as:
amount time/per day
weight loss
stress-relief
As you look at our list of best cardio, choose equipment that offers a diverse workout. You'll want ones that provide cardio, strength, and stretching, and relaxation.
1. Exercise Mat
The foundation of any home gym is no doubt your exercise mat. Your exercise mat will allow you to stretch, build muscle, and relax in comfort. When shopping for an exercise mat or even a yoga mat, consider your flooring. There are thicker mats that may be more comfortable. Exercise mats come in a variety of thicknesses, materials, and colors.
2. Ankle Weights
Adding ankle weights to your exercise regimen can be helpful in toning and adding muscle to your legs and glutes. It may seem that this exercise gear is a bit old-school but they actually are a current trend in fitness. Adding ankle weights can also help with core abdominal exercises as well.
3. Resistance Bands
Resistance bands offer a great workout and they are small and light. They come in different resistances usually in a variety of colors, some having handles and some without. They can be used for upper and lower body exercises. Try using them for glute bridges, side squats, or other types of reps with a band around your ankles or under the knees. You can also place a band under your feet and do bicep curls.
4. Trampoline
Investing in a small indoor fitness trampoline is a fun way to get your cardio done. Some have handles and some fold up for easier storage. Fitness trampolines offer a great whole-body workout. The rebound effect burns fat and builds muscle. It also is a very fun activity.
5. Dumbbells and Free Weights
Having a set of dumbbells and free weights provides you with a lot of options when working out at home. You can use them for strength training with exercises including bicep curls, tricep curls, lunges, and squats. Consider getting a medium set at first. After some time you can purchase some additional heavier weights. As you build up, you can consider a set of adjustable dumbells.
6. Kettlebell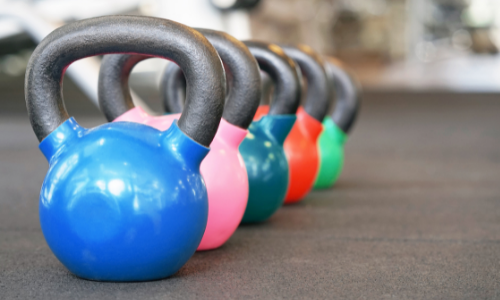 If you are unfamiliar with what a kettlebell is, it is a popular handled weight for adding resistance to your workout. It is a cast iron or cast steel ball with a handle attached to the top. You can use a kettlebell for both cardio and strength training. Kettlebell swings, squats, and lunges are all great exercises you can do at home
7. Full-Length Mirror
Having a good form while exercising is essential to a safe workout. Make sure your home gym includes a mirror where you will be able to safely exercise and monitor your form while doing it.
8. Stability Ball
Especially if yoga or pilates is something you like to do, a stability or exercise ball is great cardio equipment. While it does take up some room, it offers a core workout unlike any other because you work on maintaining balance. It's really fun too!
9. Jump Rope
There's nothing like an old-fashioned jump rope to get your heart pumping. It's compact and portable and it only takes moments to get your cardio workout done.
10. Gliding Discs
Gliding discs or gliders offer you a challenge. Use them under your hands or your feet and it makes exercises like planks and lunges even more difficult. Gliding discs are a wonderful way to strengthen your core muscles.
11. Medicine Ball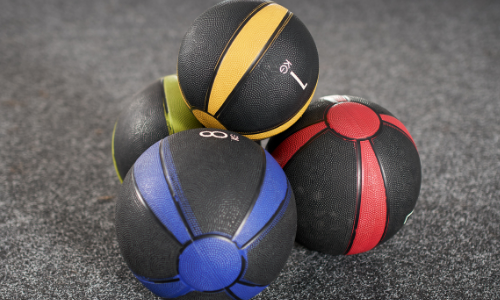 These weighted balls come in varying sizes and weights, usually between 2 and 30 pounds. They are a great addition for working on stability and strength.
12. Training Bench
Consider a bench for weight training. Use it flat or on an incline for added stability while doing work with dumbbells, free weights, or resistance bands. You don't have to purchase an expensive one to get a basic one.
13. Step Platforms
While step platforms are making a comeback, they are a great addition to your home gym. They are great for supporting you during abdominal and full-body exercises. Try your tricep dips using a step platform and get your heart rate up with step-ups.
14. Creative Options
As you start out in your home workouts, you can get creative in using other household items for cardio equipment and workout gear. Here are some examples:
towel for an exercise mat
soup cans/water bottles for dumbbells
laundry soap jug for kettlebell
towels/socks/paper plates on a hardwood floor for gliding discs
body resistance instead of resistance bands
Consider Buying Used
As you make purchases for your home gym, consider searching for pre-owned items. Sites like Facebook Marketplace, Offer Up, Let Go, and Craigslist may all be great resources for good condition, affordable options.
Closing Thoughts
Now you have no excuses to exercise at home and have an affordable home gym. Getting in shape at home does not have to cost a lot. Remember, it can be a process to build up your home workout area. You don't have to have every type of gear out there to get a good workout. Invest in a few items so that you can get your workout in the comfort of your own home.