Ultimate Ski Destinations in America
American ski resorts offer world-class skiing whether on small local hills or large mountain ranges. While ski destinations cannot be found everywhere in the U.S., stellar skiing is on both the west and east coasts. The best ski resorts should have diverse ski trails for beginner to expert, great snow conditions and terrain, efficient well-run ski lifts, and amenities. Before you pack your gear, read our list of ultimate ski destinations in America.
Great Peak, New York
Located in central New York on the Finger Lakes, Great Peak offers epic skiing. The glacial lakes set the scene for great mountain terrain with lake-effect snow cover. There are 32 groomed trails both downhill and cross-country for varying-level skiers. The resort offers lessons and even an indoor water park. It is a great destination for families.
Killington, Vermont
The biggest ski resort in Vermont is Killington. Located in central Vermont, it has over 1500 acres of ski terrain. It is extremely diverse in its trails offering wide-open trails for beginners, long meandering trails for the intermediate, and exciting tree skiing for experts. It averages 250 inches of natural snow each year and uses a snowmaking system to add to its snow cover. The resort has many nearby restaurants and shops to discover.
Sugarloaf, Maine
Located in western Maine, Sugarloaf is the largest single ski mountain in the state. It offers miles of exciting trails for all ski levels. Its views from the summit are breathtaking, seeing 360-degree views of Maine's Western mountains and New Hampshire's White Mountains. It does have colder ski conditions and harder-packed snow. Located in a village, Sugarloaf offers lots of amenities, shopping, and restaurants.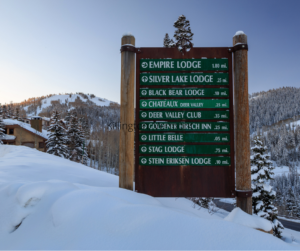 Deer Valley, Utah
A great family destination, Deer Valley offers 6 peaks and lots of opportunities for beginners to experts. It offers great powdery conditions and its backcountry skiing is phenomenal. If you want skiing only, Deer Valley is your place. It's one of three U.S. ski areas that still enforce a ban against snowboarding. A ski school and children's center make it a great family destination.
Breckenridge, Colorado
Located in the Rocky Mountains, Breckenridge is a wonderful place for beginner skiers to experts alike. This 5 peak destination boasts the highest chair lift in the U.S. and offers breathtaking views. The alpine trails are well-groomed and the cold temperature can make for packed snow conditions. It's a fun and relaxed place to ski and offers lots of amenities including a ski and snowboard school. Located in a historic mining town, there are lots of charming restaurants and shops, and is a great place for a family vacation.
Jackson Hole, Wyoming
Between the Teton Mountain range and the Gros Ventre Range, Jackson Hole offers the advanced skier a great exhilaration. Most of its 133 trails are for the expert or intermediate skier. It is known or epic snowfall which makes for a wondrous terrain. Check out the 100 person Aerial Tram to make getting to the top a true experience.
Heavenly, California, and Nevada
Some believe Heavenly on the California-Nevada border is the most beautiful ski destinations, with panoramic views of Lake Tahoe. Sunny days on well-groomed expansive trails make this place a gem. Heavenly has over 4000 acres of trails, high elevation, and vertical drops. Head over to the Nevado side for a fun night at the casino.
Crystal Mountain, Washington
Located close to Seattle, Crystal Mountain is an expansive ski destination for beginners and beyond. With more than 2500 acres of varying terrain, you'll find about 50 trails and backcountry to explore. Take the gondola up to a restaurant located at the summit, 6872 feet up.
We hope our list has inspired you to hit one of the amazing ski slopes in the U.S. Which one will you visit?